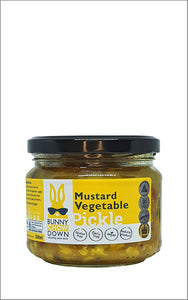 Awards
Serving Suggestions
Beautiful with corned beef or a ham hock terrine. Delicious in a cold meat or ham sandwich. The perfect accompaniment on a cheese or antipasto platter.
Sensational with avocado on toast. Tasty in a rice or noodle salad.

Product Description
Hints of spice from the mustard seed with a sweet, tangy taste from the pickled vegetables.

Ingredients
Cauliflower, onion, carrot, cucumber, red capsicum, sugar, vinegar, cornflour, salt, mustard, mustard seed, turmeric, caraway seeds and ginger.
Nutritional Information