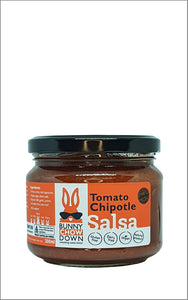 Awards
Serving Suggestions
Perfect with Mexican dishes like nachos, fish tacos, fajitas and quesadillas. Beautiful in a meatloaf recipe.
Tantalising poured over scrambled eggs or omelette.

Product Description
Spicy and smoky with a rich tomato flavour.

Ingredients
Tomato, onion, red capsicum, vinegar, sugar, celery salt, chipotle chilli, garlic, cumin, coriander, lime juice and white pepper.
Nutritional Information