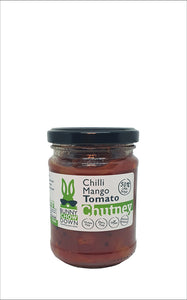 Serving Suggestions
Tasty in a hamburger or hotdog. Heavenly as a sauce for roast vegetables or potato chips. Scrumptious with baked fish cakes or roast chicken.

Product Description
Light citrus taste from the mango and tomato. With a hint of chilli and spice.

Ingredients
Tomato, mango, apple, vinegar, onion, sultanas, raw sugar, Erythritol (non-GMO), mustard seed, garlic and various spices.
Nutritional Information