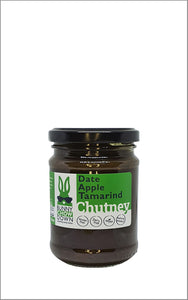 Serving Suggestions

Tasty as a glaze for beef or pork strips. Tasty with Merguez sausages.
Sensational as an ingredient in a tamarind sauce recipe. Delicious as a sauce for samosas, spring rolls and poppadoms.

Product Description
Sweet 'n sour taste from the tamarind with a syrupy flavour from the date and apple.

Ingredients
Dates, apples, tamarind paste, sugar, vinegar, ginger, mustard seed, chilli powder, aromatic salt and garam masala.
Nutritional Information