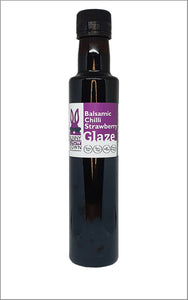 Serving Suggestions
Delicious in a Caprese salad. Perfect as a glaze on roasted vegetables or barbecued ribs. Sensational over a warm goats' cheese log and grilled chicken breast.
Beautiful dressing in a vegetable salad. Fantastic dip for battered cauliflower florets.

Product Description
Sweet, chilli taste. With a tart, fruity flavour.

Ingredients
Balsamic vinegar, sugar, strawberry and chilli.
Nutritional Information