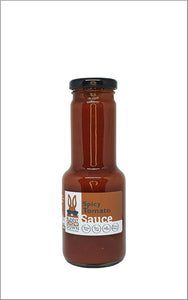 Serving Suggestions
Flavoursome in a hot dog or hamburger. More'ish with sausages or beef strips.
Spicy and 'tomatoey' with potato chips or wedges. Scrumptious with a margarita pizza. An excellent ingredient in a spicy tomato soup.

Product Description
It is fresh, vibrant with a rich tomato flavour and subtle hints of chilli.

Ingredients
Tomato, onion, apple cider vinegar, raw sugar, celery salt, cayenne pepper and various spices.
Nutritional Information