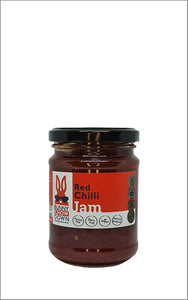 Awards
Serving Suggestions
Gorgeous with cheddar, Brie, Camembert and cream cheese. Zingy with roast chicken.
Yummy on savoury scones, Arancini balls, pizza and pancakes.

Product Description
There is a sweet, earthy flavour from the red capsicum. Toned with a chilli and syrup taste.
Ingredients
Red capsicum, sugar, tomato, garlic, vinegar, white wine and red chilli.

Nutritional Information