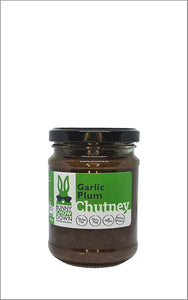 Serving Suggestions
Sticky as a glaze for roast pork or lamb chops. Gooey baked on top of Camembert. Yummy on a soft fried or poached egg. Perfect with duck confit.

Product Description
Rich, sweet flavour with a peppery taste from the garlic.

Ingredients
Plums, garlic, sugar, sultanas, vinegar, ginger, salt and cayenne pepper.
Nutritional Information