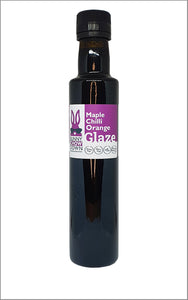 Serving Suggestions
Beautiful as a glaze for baked or smoked ham. Excellent as a dressing on a grilled chicken breast or turkey salad.
Tasty drizzled over roasted carrots and Korean fried cauliflower.
Product Description
Syrupy taste with chilli and zesty tones.

Ingredients
Vinegar, sugar, orange juice, maple syrup, chilli and orange rind.

Nutritional Information