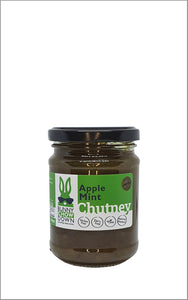 Awards
Serving Suggestions
Delicious with lamb shanks. Mouth-watering in a shredded turkey wrap or roast lamb bap.
Beautiful on a slice of cucumber with cream cheese. Scrumptious in an Apple Mint Mojito.

Product Description
Infused with an intense mint flavour. With a treacly taste from the cooked apple.

Ingredients
Apple, sugar, vinegar, mint, ginger, turmeric and mixed spice.
Nutritional Information