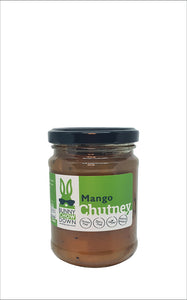 Serving Suggestions
Perfect with crispy bacon. Beautiful with venison, lamb and duck.
Sensational in a salad sandwich. Sweet diffusion with a vegetable Vindaloo curry.

Product Description
Densely sweet. Intense tropical flavours from the mango.

Ingredients
Mango, *mixed fruit, sugar, onions, sultanas, garlic, vinegar, coriander, cumin, ginger and cardamom. *Can include kiwi, pawpaw, dragon fruit, quince or apple.
Nutritional Information