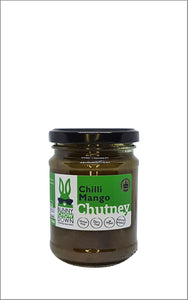 Awards
Serving Suggestions
Tantalising with baked fish cakes and grilled chicken breast.
Delectable stirred through cream cheese and used as a dip for chips or crackers. Creates a yummy salsa when combined with mint, red onion and a squeeze of lime juice.
Product Description
Citrus, tropical flavour from the mango chutney. Underlined with light chilli notes.

Ingredients
Mango, apple, kiwi fruit, sugar, sultanas, garlic, chilli, coriander, cumin and ginger.
Nutritional Information