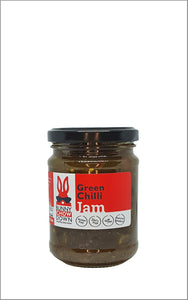 Serving Suggestions
Exquisite in a roast turkey or pork sandwich. Tantalizing as a glaze on a fillet of Barramundi or dory.
Zingy as an accompaniment in a vegetable frittata. Sensational with spinach and cheese muffins.

Product Description
Peppery taste from the green capsicum. There is a sweet undertone from the sugar and a subtle hint of chilli.

Ingredients
Green capsicum, courgette, sugar, white wine, vinegar, garlic and green chillies.
Nutritional Information