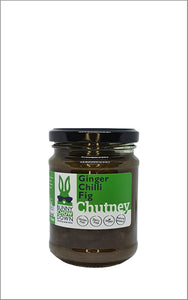 Serving Suggestions
Gooey and yummy with prosciutto-wrapped prawns. Tasty as a dipping sauce for a chicken or pork sausage.
Perfect on flatbread or bruschetta with olive oil. It's a lovely dipping sauce for grilled Quorn strips.

Product Description
Oozing with a honey-like sweetness with a ginger and chilli undertone.

Ingredients
Figs, water, red wine vinegar, sugar, apples, sultanas, onions, lemon juice, ginger, mustard seed and spices.
Nutritional Information