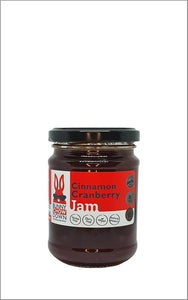 Awards
Serving Suggestions
Yummy with roast turkey. Exquisite with a slice of pork or chicken sausage. Sticky and spicy poured over ice cream. Heavenly as a sponge cake filling or in a milkshake.

Product Description
Tart, sweet and spicy taste with a jammy consistency.

Ingredients
Sugar, apple, cranberry, orange juice, cinnamon and pectin.
Nutritional Information