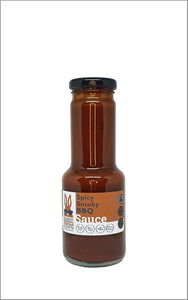 Awards
Serving Suggestions
Sensational in a pulled pork bap. Heavenly smeared over barbecue ribs. Delicious as a sauce for chicken wings and beef ribs.
Fantastic dip for battered cauliflower florets and grilled Quorn strips. Yummy dipping sauces for potato wedges and chips.
Product Description
Bursting with spicy and smoky flavours. With molasses undertones.

Ingredients
Tomato sauce, water, onion, sugar, prepared mustard, apple cider vinegar, vegan Worcester sauce, molasses, veg oil, liquid smoke and spices.
Nutritional Information