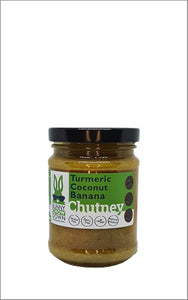 Awards
Serving Suggestions
Beautiful layered on a baked rainbow trout or tuna steak.
Indulgent with a vegetable Madras curry. Delicious as an ingredient in a turmeric banana pudding.
Product Description
Jammy flavour from the banana, bitter taste from the turmeric with a fatty undertone from the coconut.

Ingredients
Banana, apples, sugar, coconut, vinegar, garlic, turmeric, coriander, cumin, salt and cayenne pepper.
Nutritional Information